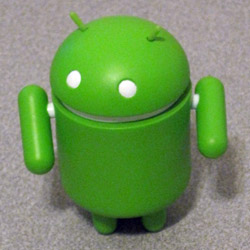 OK, this one is completely frivolous.  I have no practical need for a plastic Android figure for my desk, but I wanted one.
I spend a lot of my time with Android, for professional and personal reasons.   So why not have a physical reminder of my enthusiasm?
Oh, and Android also represents freedom – not just open-source software and an open and usable platform, but also freedom from my cubicle job.  So it's meaningful to me.
Higher quality toys for the serious Android enthusiast
Now, this isn't just any cast plastic figure.  This one has movable arms and a rotating head.  Not that this action figure will be engaging in a firefight with a storm trooper or anything, but it's nice that it's high quality.
From what I can tell, there are a number of knock-offs to the officially licensed Android figures from Dead Zebra, Inc. (DYZ Plastic).  To that measure, there are a bunch of security features, from the reflective printing on the box to the hologram, to the foil wrapper on the figure itself.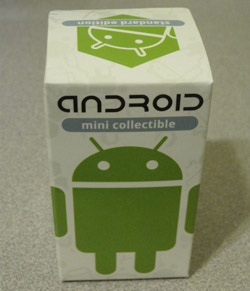 Buying from a reputable seller also helps.  I suspect that ebay sales are a significant source of the fake items.
Variety is the spice of life
One of the main things about the figures (and Android in general) is the wide variety of personalization.  I got the original green color, but there are a few dozen other varieties.  You can find quite a number of them here and even buy a box if you want them all.
Some of them are getting expensive, since they're sold out/no longer in production.  I guess that's the nature of collectibles.
Also, if you don't care which one you get (surprises can be fun) you can get a "blind" box, which means no one knows which one it is until you open it.
Back to business
OK, with Android figure on my desk, it's time to get back to updating my latest Android app and adding new material to the Android Income Powerstart Guide.  Earning money means more to spend on toys like this 😉