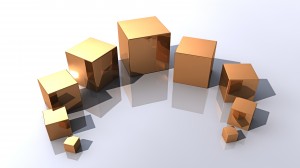 This quick tip might save you some time (and would have saved me some time last month if I had found it then).  When I have a lot of photos that I want to keep, but that aren't priceless (e.g. family and friends), I don't want them to take up huge amounts of space.  Unfortunately, cameras keep producing larger and larger files as the resolution goes up.  There are some options, however.
Delete the images you don't want
Shrink the images you have without changing the resolution or visually reducing the quality
The second one it's possible because the human eye can't see all of the detail that a jpeg file contains (assuming that is how you have stored your images).  Online services have always taken advantage of this by shrinking files that you upload.  It's pretty handy to for  yourself too.  If you save photos like I do,  you'll find that your storage needs are increasing at an alarming rate as the size of photos (and in my case number of photos as well) increases.
Resizing quickly
The more photos you have, the less time you want to spend on each. IrFanView is an invaluable (and free!) tool that you should have anyway – it's packed with features that would take a long time to figure out.  I just found this one, so here's a quick explanation of how to find and use the feature:
Open IrFanView, then go to File->Batch Conversion/Rename
The conversion window opens
Leave selection as Batch Conversion
Click Options next to output format (after selecting JPG)

set lower quality 80 to get smaller sizes

Click to save those options
Set output directory
If overwriting existing files
click "use advanced options"
Click "Advanced"
Check "overwrite existing files"
If resizing, set this under advanced options as well (such as % of original)
Click Start Batch
That's it!  Observe the smaller sizes.  Check the quality – you may need to tweak the settings to match your balance for size/quality.
Perhaps if I integrate this into the way I store off my photos, I can shrink the unimportant photos (such as pictures of repairs, misc. pictures that I might care about later, etc.) without much effort.  At the very least it can help keep my project record directories under control.