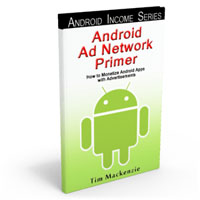 [UPDATE – the free promo day is over for now, but you might still be able to borrow the book for free (see below)]
I get it – you're in this business to make money, not spend it.  It's hard to spend any money at all before you earn it.  That's a lot of why I post on this blog.  I want to help other developers.
As you may know, the Android Ad Network Primer can be borrowed for free for those of you who have Amazon Prime and a Kindle Fire.
I want to take it a step further though, so I have set up a promotion that will make the book free for anyone with a free Kindle account.
So set your reminders for tomorrow (Tuesday, May 29th) because the Android Ad Network Primer book will be free all day from the Kindle store.
This may be short notice for some.  I might do another promotion like this in the future, so you should definitely add me on Twitter to stay up to date:  http://www.twitter.com/PrjJourneyman
And one quick favor – if you like the book, please leave a review to let others know!
Enjoy the Android Ad Network Primer and let me know how your Android apps do after you start earning from advertisements in them!