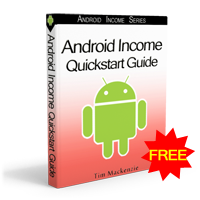 The wait is over!  I am now releasing the latest in the Android Income Series, the Android Income Quickstart Guide.  I think this guide shows one of the fastest and easiest ways to start earning money from your Android app or game.  Also, it's completely free.
UPDATE: the Android Income Quickstart Guide is temporarily unavailable, while I work on a new version.  All of the content (and much more) is in the Android Income Powerstart Guide, however.  Take a look at it now!
This guide is aimed at the beginning – earning the first dollar from Android apps.  The first dollar is the hardest, so this guide is intended to get you past that hurdle.
If you've been working on an Android app and want to make money from it, or even if you just have an idea that you think would be good this guide will help get you prepared to start earning money with your app.
It's not that hard to get started
It may seem intimidating to compete against giant companies who are already established in the Android Market.  Don't be concerned – there's plenty of room for independent developers.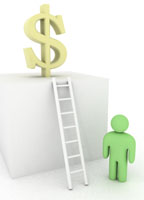 While it may seem like an insurmountable task to get an Android app out there and start earning money, it really isn't.  You just need the right tools and knowledge to prevent getting bogged down in unnecessary tasks.  That's why I distilled just the most important tasks to cover into this guide.
The knowledge you need to get started earning with your Android app
This guide covers topics such as:
Deciding on a revenue model
Creating accounts with ad networks and inserting the ads into your app
Creating your icon and other graphical assets
Testing
Creating your Android developer account
Submitting your app to the Android Market
Starting to earn revenue from your app
Plus there's a huge resources section which will help you with things such as:
Where to get help with programming problems
Finding help with graphics design, writing ad copy, and anything else
Where you should set up accounts
Getting Android test devices
Where to go for more exposure
Currently Unavailable
Sorry, the Android Income Quickstart Guide is currently unavailable.  All is not lost, however!  All of the content (and much more) is in the Android Income Powerstart Guide.  Take a look at the guide now!