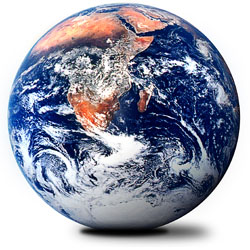 Sure, it's just the next item on your checklist – "Distribute app globally". No problem, right?
While deploying your app to the Android Market is certainly an important step in getting global distribution, if you are looking to distribute your app as widely as possible there is much more you can be doing.
Not only have you not yet made your app appealing to non-English users, you haven't even given many of them a chance to find your app!
Fortunately there are a number of well-known techniques to take your existing app and help spread it to the world.
Localize your app
Users are much more likely to download apps that are tailored to their native language.  Even if you distribute your app to an Android app store that supports a region you want to move into, you won't make much progress if users can't understand the language the app uses.
The process to localize is well documented by the Android team:
http://developer.android.com/guide/topics/resources/localization.html
As for translating the strings files themselves, there are many localization services available for modest fees.  If you ask nicely you may even be able to find someone to translate your app for free.
Either way, be sure to follow best practices when developing your app, such as:
Be sure that any text displayed to the user is included in an XML resource, not the code itself.
Ensure that your layout looks correct even when translated text is longer (expect up to 30% longer).
Keep phrases and sentences in a single string, rather than the mix-and-match approach which could lead to bad grammar after translation.
Plan to localize graphics that must include text
Perform comprehensive testing in every language that you are targeting.
A few ideas if you are looking to save on translation to prepare to distribute app globally:
Use Google Translate (but be careful, this can lead to mistranslations)
Check out this Eclipse plugin (direct link broken), which uses Google Translate automatically on your XML files (link to code)
Crowdsource your translation (link has free and paid options)
Ok, your app is now localized and ready for international users.  Some of them will find you on the Android Market.  What else can you do?
Distribute to additional Android app stores
While the Android Market may be the big fish in the pond, it's not the only one.  And if you want to break in to some markets (China, for example), you'll need to work with other Android Markets.
There are dozens of active Android app markets operating right now, and many of them are specialized to regions or languages around the world.  You can gain targeted users by deploying your app to app markets that handle under served markets (again, China).
I've been reviewing Android app markets to provide some insight into these other markets.  While there aren't posts on everything in the Android Market Alternatives report yet, I continue to post reviews of noteworthy app markets.  App stores appear and disappear frequently – this is a very dynamic ecosystem.
Promote locally, Promote globally
You are most likely aware that promoting your app can help get exposure and discovery – no matter where you distribute it from.  Getting noticed can make the difference between a breakout app and another great app that nobody knows about.
An added wrinkle to localizing and distributing apps around the world is that the promotion task grows greatly.  For every language that you target, it would be helpful to have marketing in that language.
The app description is obvious – that needs to be localized properly.  Hopefully your self-promotion didn't stop at that, however.  What other marketing are you undertaking in English?  Some things to consider:
Submission to review sites
Press releases
Promotion on social media sites
Discussion in forums
Banner ads
All of those items are relevant in your target languages, but the sites and techniques may be slightly different.  This is where having a native speaker on board with your promotion efforts will really pay off.
Where next?
Ok, so now you have localized your app, distributed it to local Android markets, and promoted it in the target languages.  'Distribute app globally', check.  That's certainly not the end (although you'll be way ahead of most apps).  A few further thoughts:
Move on to the next language/region to localize to
Dig deeper – research more localization details to make your app really fit the needs of each target market
If you're heading to AnDevCon II next week, be sure to come to the fireside chats that Manfred Moser is hosting.  I'll be there, and will be happy to answer questions and provide any insight that I can on distributing apps globally.  The two chats held this year are:
There will be a lot of experts there, so email any questions you would like to ensure are discussed.  I'm certain that I will bring back a lot of great information from the event to discuss on this blog and in my email newsletter, the BrainCast.