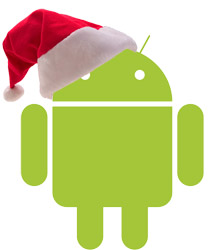 Christmas 2011 should be a good year to be a developer for Android.  Not just if you're developing a Christmas-themed app as I am (look for my Christmas Ornament and Tree Designer app out now!), but for all Android developers.
There have been a few high-profile devices launched recently, and you can bet that a lot of people will be receiving Android tablets and phones this Christmas.  There is sure to be a flurry of activity when those new devices are turned on in just a few weeks.
In particular, the Nook Tablet and the Kindle Fire are at a price point much lower than the previous generation of Android tablets, and the smaller size is likely to make them more accessible (my Motorola Xoom WiFi is still a powerhouse, but the weight shows it).
How to get in on the Christmas 2011 action?
Obviously a new Christmas (or any other winter holiday) themed app is a great place to start capitalizing on the holiday cheer.  I've been developing my new Christmas Ornament app, but that's not the only way to get ahead this Christmas.
A few other ideas:
Update your app with holiday-themed effects, levels or any other kind of add-on (either free or paid).  Hopefully you've already started on this one!
Release your Android app on a new Android app market such as the Amazon Appstore
Host a Christmas giveaway – free copies of your app, free upgrades, etc.
Pick up a Kindle Fire for yourself for, um, research 😉
Take a vacation (no really – taking a break is also important!)
Share your Christmas Android plans with us!
So what are you doing this winter season?  Do you have a Christmas app or any updates planned?  Let me know by posting a comment below.  Include a link to your app!
And of course, good luck with your Android apps over Christmas 2011!