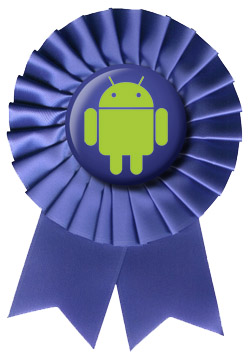 Winning an app contest is a great way to get great exposure for your Android app, and possibly some cash immediately.  Several big-name apps got catapulted into the public eye when they won an app contest.
As I discuss in the Android Income Powerstart Guide, having success with Android apps involves more than just making a great app.  Getting discovered by your potential users is critical  to success, and Android app contests are a great way to get more exposure.
Unfortunately, it's a little harder to find a big challenge to compete in than it was a few years ago.  Now that Android has taken off, Google is done with the Android Developer Challenge (ADC).  The ADC II pages still show up in search results, but it's way too late to enter!  The third PayPal X Developer Challenge also just ended.
So where do you turn?
I gathered a list of a few currently open competitions for Android apps, but note that some of them are ending very soon!
Adobe Air App Challenge
Site: airappchallenge.com
Deadline: November 11th, 2011
Price to enter: Free
Prizes: $200k in prizes, including $100k cash top prize
Target technology platform: Sony's Honeycomb Tablets; using Adobe Air. Develop using these tools:

Adobe® Flash® Professional
Adobe® Flash® Builder
Flex SDK

Sponsor: Sony
App-Promo contest
Deadline: October 31st, 2011
Price to enter: Free
Prizes: $5k in marketing services
Target technology platform: any
Sponsor: App-Promo.com
 Mobile App Showdown
Site: (down)
Deadline: December 2011
Price to enter: $1000
Prizes: Top 10 apps presented live in front of CES in Las Vegas
Target technology platform: any
Sponsor: N/A
Notes: For CES January 2012 – January 10-13, 2012
IDBYTE Android Mobile Applications Development Competition by Qualcomm and HTC
Site: bubuawards.com/v07/competition/android-apps-dev/
Deadline: October 14, 2011
Price to enter: Free
Prizes:

Flyer Tablet from HTC
Wildfire S, and Chacha handsets
Half day mentoring from IDBYTE, Qualcomm, and HTC

Target technology platform:

Unreleased app that is designed to promote tourism in Indonesia
An additional feature that include Augmented Reality (AR) technology and work great on Qualcomm Snapdragon Chipset and/or HTC mobile phone would be a plus.

Sponsor: Qualcomm and HTC
Ericsson Application Awards
Site: www.ericssonapplicationawards.com/overview
Deadline: February 1, 2012
Price to enter: Free
Prizes for each category (Students and Companies):

1st place: €15 000 and phones from Sony Ericsson
2nd place: €10 000 and phones from Sony Ericsson\
3rd place: €5 000
4th and 5th place: Honorary Diplomas

Target technology platform:

Addresses the theme "Apps for the Networked Society"
Makes use of at least one Ericsson Labs API (e.g. Mobile Location, Text To Speech, etc.).

Sponsor: Sony Ericsson
Notes: Two categories

Students
Companies under 100 employees
4Shared
Site: 4shared.com
Deadline: Closed
Price to enter: Free
Prizes: $5000 (each monthly winner)
Target technology platform: Use the 4shared API
Sponsor: 4Shared
Conclusion
As you can see, not all of these contests apply to all Android apps or developers.
You might find more by searching for competitions that apply specifically to you or your app. A few things that challenges seem to focus on:
Proprietary APIs that a company wants to promote
Hardware that a company wants to showcase
Countries or regions (e.g. the Indonesia tourism one below)
Contests for students or small companies
Be sure to share what you find here for the rest of us!
I'll share more news on app contests that I find as well as other research I do in my email newsletter, so be sure to sign up now.