Synapsy is another app market that looked interesting, but as you'll see in this quick review it didn't make the grade.
Generally, I am a fan of aggregators – the more app stores you bring into one interface, the more reach you can get from a single deployment of your app.  This store sent a direct email to the address on file for my apps on Google Play, and a decided to take a look.
The good?  Yes, their advertisement of submitting apps in just 2-3 minutes is pretty accurate.  It didn't really take too much time to submit.  They pulled the images and text from Google Play.
However, in this case it doesn't seem that their reach is sufficient to merit much of my time.  The next few months showed no downloads however, and I had submitted my top two free non-game Android apps.  I don't think a paid app would be a good idea here, since the payout threshold is 200€.
Would games fare better?  Maybe.  Am I enticed to spend any more effort on this Android market at this time?  No.  Hopefully this market will improve as they bring more stores into their fold.  For now, I don't recommend spending much time on Synapsy.
— — — —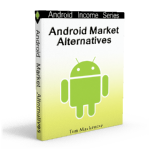 Hungry for info on more Android app stores?  For access to all of my reviews of Android app stores and markets, check out the Android Market Alternatives report.  It covers dozens of Android app markets in detail, with an action plan for the top ones to spend your time and effort on.