My latest favorite for deploying Android apps is Samsung Apps [now called Samsung Galaxy Apps].  The results have been very good, and they have made the site a bit easier to use recently.
I already updated the Android Market Manager to handle Samsung, so I figured it was time to do a Samsung Apps review to explain this Android app store.  You can also find a lot more app market information in the Android Market Alternatives report.
UPDATE: note that I have received several payments for my app sales, as well as separately for ads that ran (not yet with Samsung AdHub, but with other ad networks).
Update: Samsung AdHub is closing down in June 2015, but the app store is not affected.
Why is Samsung Apps my current favorite?  Read on to find out.
First, a basic warning.  Samsung's site is a bit wonky.  They do things strangely… but they get things done.  The downloads are impressive enough for me to puzzle out their way of doing things.
The Good about Samsung Apps
While Samsung Apps is not available in the USA, they appear to have a strong presence around the world, as evidenced by download counts I have seen for both free and paid Android apps.
Of course download counts for some stores have been suspected of inflation, but the ad requests back up the download counts here.  I created a new ad ID for each of my Android apps on Samsung, and the results have shown that the ad revenue is on par or better than my other main channels.
I don't know how things will look after the initial download spike dies down, but my initial results are showing higher results than Google Play, which definitely has my attention.  Don't take that as gospel, though.  Some app stores have shown me high initial traffic only to have it dry up later (BlackBerry Appworld, for example).
UPDATE – after several months of high download counts, I can safely say that Samsung is a high-traffic market, but the long-term traffic isn't higher than Google Play for me.
A few other points
The QA team provides detailed descriptions of issues (required and suggested) including video and pictures.  This makes it easier to resolve issues.
While the QA team is thorough, I haven't felt that the required changes were unreasonable.
Their Remote Test Labs provide access to actual Samsung devices running Samsung Apps, so you can verify performance even if you can't access the app store yourself.
The Not-So-Good about Samsung Apps
As for the quirkiness I mentioned earlier – it almost threw me off.  Expect to spend a little extra time figuring out what some instructions mean, or coming up with data you didn't need for other app stores.
Actually, my first app submission was rejected by their QA team (which can take a few weeks to validate your app).  I didn't bother to come back for months, but it turns out they really were worth my time.
However, once I took the time to update the Android Market Manager to cover Samsung as well, the cost to make apps Samsung-compliant wasn't very high (I haven't implemented their in-app purchasing solution yet).
The release process used to be very confusing, requiring 17 separate app submissions for the different targets (despite the fact that I would be using the same .apk for all of them).  UPDATE – They cleaned that up now, and you can submit one app submission for all 61 (currently – the list is growing) device categories.
Before you can sell a paid app, however, you have to get approved.  Their their approval process requires uploading documents to prove your bank account, business license, and such.  You'll need a SWIFT number for international bank transfers to receive payments.  Beware if you let your session timeout, though, as you will see all of your info will submitted by unencrypted http.
If the previous bit scares you off, don't worry – distributing free apps is still a great option.
I haven't been paid yet [see updates, I have now], but I hope to find out how that process goes soon (given the high sales rates).  The graphs and reporting are counter-intuitive, but I did see strange things like $0.06 income from one sale – how are they arriving at this value?  Are my apps are being sold at cut-rate prices?  It hasn't been worth my time to investigate further yet.  I'm just waiting for my first payment, but it may be a while as some carriers allow up to 6 months for payments to settle!
Lastly, the reporting is a bit weak – you can see everything in aggregate but you need to download the data to see the details.  There is no graphing by day, and the basic reports lump apps together by category.
Of course, Samsung seems to be releasing updates every few months so these complaints may be resolved sometime soon.
UPDATE – thanks to Yuri's note, I discovered that the currency conversion is incorrect for a few countries.  For example, the Russian ruble value is maybe 15% of what it should be with the current conversion rate.  I contacted Samsung, and they indicated that this was intentional because they felt the price tiers they were using were more appropriate for the current economic conditions.  While yes I can set this price manually, I think it is unfortunate that Samsung doesn't tell you this up front.  I do NOT have the time to check the dozens of conversion rates and correct them for all of my apps.  I have been pushed into pricing my app differently in different regions.
UPDATE– it appears that the currency exchange system has been updated again, so be sure to check how your app is priced if you are concerned.
UPDATE June 2013 – I'm a little concerned – I STILL have not received a payment, even though my sales through 6 months ago (the clearing period) have been WELL above the threshold for payment for a few months.  I have submitted a support ticket…
Update September 2014 – I have received several payments by now, and no longer worry about getting paid for my app sales.  However, some readers have had problems getting paid by PayPal, because the system didn't like their banking details.  Be sure to get PayPal set up early and hopefully the system won't get confused.
A Contest
Samsung is working to build their app catalog, so they are currently running a contest (it's over now – hopefully they'll do more soon).  Unlike a lot of other contests for Android apps, this one doesn't require implementing their API or using special features (although you might get a bump by using Samsung's AdHub or their S-Pen API) – they just want good apps.
Another good point about this contest is that it is judged purely on download count, rather than arbitrary criteria from a team of judges.  The consumers vote!
Despite some wonkiness with the entry procedure (which I've come to expect from Samsung), I suggest entering your free Android apps and games into the Samsung Smart App Challenge.  You may get some free exposure, and of course there are thousands of dollars up for grabs!
Update:  I certainly wasn't a winner in this contest, but I wish they would at least show my final count/placement.  Silence on that front.
Conclusion
Now that I have updated the Android Market Manager to handle Samsung, the cost to create a Samsung-specific .apk is pretty small.
Coupled with the strong performance I have seen for my apps, this leads me to suggest that you investigate Samsung Apps for your free Android apps at the very least if not for your paid apps as well.
– – – –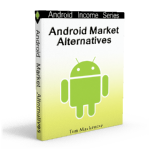 Hungry for info on more Android app stores?  For access to all of my reviews of Android app stores and markets, check out the Android Market Alternatives report.  It covers dozens of Android app markets in detail, with recommendations on the top ones to spend your time and effort on.  Samsung Apps is just the tip of the Android app store iceberg!