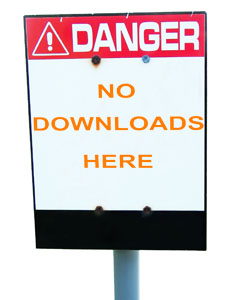 With as many markets as there are out there for Android apps, it's not too surprising that there are a few duds.  For the most part, I define an Android app market as a dud if it won't get downloads for me, or if it takes way more effort than the downloads justify.
These reviews are part of an ongoing series that covers my research and reviews of the many alternate markets for Android apps.  For access to the complete set of reviews and recommendations, get the Android Market Alternatives report.
This roundup includes a review of few Android app markets that showed some promise, but have subsequently failed to live up to expectations.  I'm going to review NeXva, Phoload, and MobileApps.
Phoload
The Phoload (site is now down) market appears to support free games and apps (no paid options) for the Android and Symbian (Nokia) platforms.
No DL counts are shown publicly, but the site seemed fairly polished.
It was a fairly painless process to sign up, but after upload app goes into "pending".  At this point, I have waited over two weeks for approval and heard nothing.
While it appears that some apps are getting approved, I don't think this market is responsive enough to warrant your time. Move on.
NeXva
The NeXva market is rather new, and appears to be taking some new angles to differentiate themselves.  They opened fairly recently, and are using tactics such as directly mailing developers to request adding their apps.
This market supports a large number of phone platforms, and might be more important if you are creating apps for all of the different types of phones.
NeXva Has a few features to help differentiate from the competition:
Supports their own internal payment system
Has a system to create a graphical "badge" for apps that can be included anywhere (email, web pages, etc.) to draw users to the download page.
Pushes ease of deploying to all platforms simultaneously – they specialize in cross-platform support
Reports app views as well as downloads
While download counts aren't shown publicly, I decided to sign up for NeXva anyway.  My app was approved the same day, which is good.  However, in the following two weeks my app showed very few views and zero downloads.
Without downloads, this store isn't worth my time.  If any of the special features appeals to you, then you can likely make more of this store.  Otherwise, I suggest waiting until they gain more marketshare.
MobileApps
While it may not be fair to judge MobileApps.com while it is in beta, I think a number of companies are following the Google strategy of calling things 'beta' for years.
Update: They're out of beta, but my opinion hasn't changed much.  In addition, you'll get a server error if you go directly to some of their pages (hence no link here) – not a very polished site.
One nice feature of MobileApps that I think more app stores should support is importing the details from the main Android Market. It speeds up the app submission time greatly.  On MobileApps, you can:
Search by developer name and select apps to import.
Upload the .apk, and you're done.
After import, you can edit all of the details and enter more.
MobileApps shows download counts for free and paid apps, but even top apps have less than 100 downloads each as of July 2011.  Since they support multiple phone platforms, it's possible that other platforms are performing better than Android.
In the two weeks after uploading my app, I got zero downloads. I suggest waiting until this market has more traffic before deploying your app to it.
If not these app markets, then which ones?

While I don't suggest starting with any of these three alternate markets, I do have plenty of suggestions.  I suggest reviewing a few of my previous reviews of Android alternate app stores.
If you want all of my reviews and recommendations, including a step-by-step implementation plan, then check out the Android Market Alternatives report.